6 Ways To Optimise Affiliate Landing Pages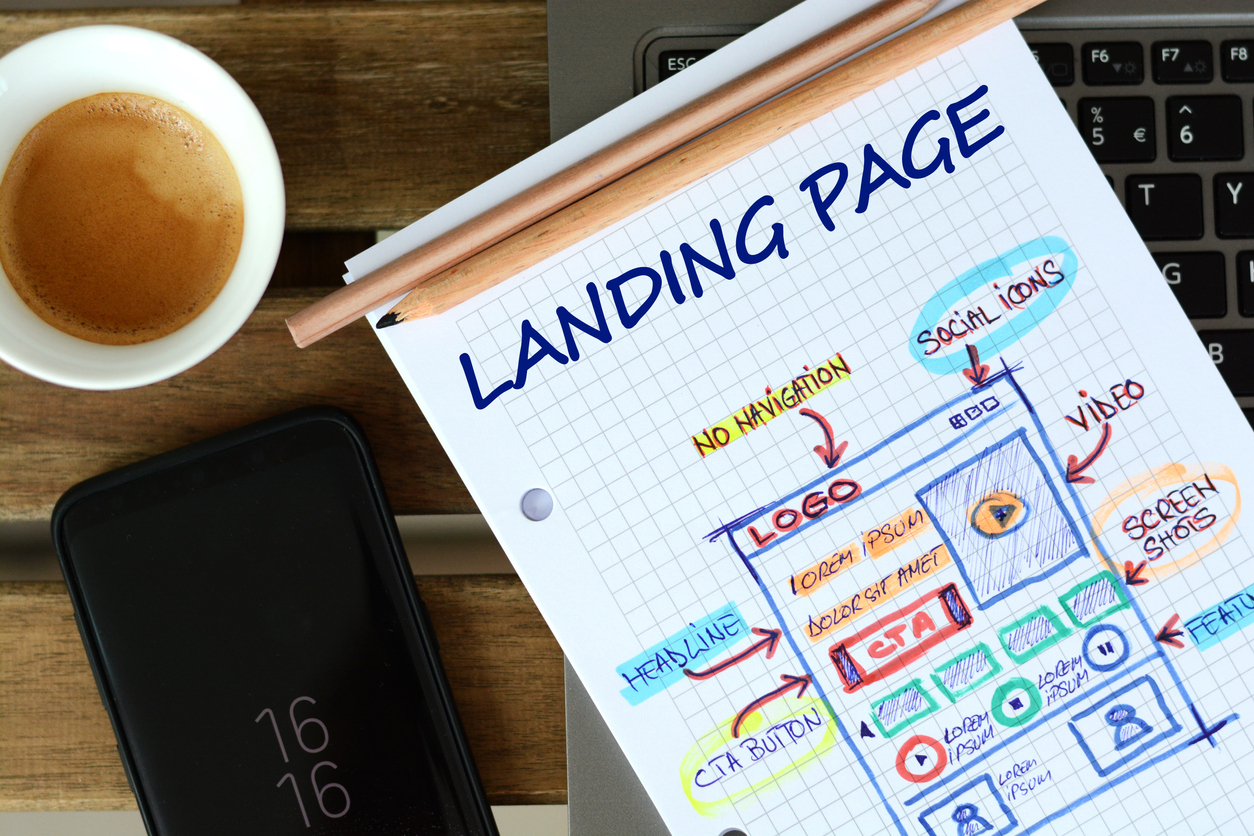 As an affiliate, your main objective is to attract new clients towards you and the products and services you are offering. There are a variety of channels affiliates use to market their offerings, ranging from landing pages, websites, apps, or even blogs. In this post, we will be focusing on landing pages. We will be looking at what they are, how to use them, and what you can do to optimise your landing pages in order to attract more visitors, potentially resulting in more conversions. 
Your landing page is where you want to send suitable candidates for your offering. So they can engage with your brand, explore the offering, and ultimately leave convinced that this is a good opportunity for them. If set up correctly, a landing page can be a great way of attracting the right type of clients you want to target as well.  It is not always about the quantity of potential clients, but about the quality. 
You want to make sure that your landing page not only stands out amongst every other offering but is clear, concise and cogent. For your landing page to be as effective as possible, you need to think carefully about how to optimise each landing page element, such as the design, images, headlines, benefit statement, copy, social proof, and CTA. Ultimately, your end goal is to convince the right type of client, to complete the action, whether it be a webinar registration, an application, a signup, or a subscription. To help you with this, we have detailed some insights that may help you upgrade your landing page, to drive more conversions.
How to optimise your affiliate landing page
For your affiliate landing page to yield the greatest results, there are a few key factors to remember. Here are a few insightful points to keep in mind when optimizing your affiliate landing page.
Keep Your Page Design Simple
An affiliate landing page should have a simple design. Although it may be tempting to include an abundance of information and images to keep your audience on the page for longer, consider simple and focused designs to ensure high-quality lead conversion.
Furthermore, since your primary goal is to find the ideal affiliate, removing any distracting components like design elements, typography, or navigation links that divert your visitors away from your CTA is recommended.
Make effective and punchy headlines
This is going to be the first thing your landing page visitor will see, so you want to make it as catchy as possible. Strictly speaking, a headline's ultimate purpose is to get your audience's attention. If you want it to be effective, it should include actionable words and will hopefully evoke an emotional response from the audience, giving them a reason to keep reading down the page and take action.
When writing your headline, you want to emphasise the core benefits of your offering and the desires of your target audience. Be sure to include A/B testing to help determine which headline is the most effective and driving conversions.
Get to the point, and be concise without unnecessary fluff
This is by far one of the most significant points we will be making, as it is fundamental to driving conversions. Regarding marketing, time is precious, and every second counts. That is why you should not use ambiguous words, you instead need to be as direct as possible. What are you offering, and how can they get it; that's it.
You need to discuss the benefits your offerings bring to the visitor of your landing page, and how they can take advantage of that offer. When you have written your copy, ask yourself the following questions, and put your copy to the test:
Is the copy clear and to the point?

Is the copy conveying the exact information about my offering?

Are the benefits clearly laid out?

Is it engaging enough?
If the copy passes the test and you can answer the above questions with confidence, you can try another method of testing – A/B testing.
A/B whenever and wherever you can
A/B testing, alternatively known as split testing, is the process of showing two variants of a page to different segments of your target audiences at the same time and comparing which of the variant results in more conversions. It is highly recommended that you test your landing pages regularly to find out which elements are the most effective at getting you more clicks and conversions. 
The best part is that this does not just work for copy alone. In fact, you can test just about everything: headlines, copy, images, colors, layout, length, buttons, and more. To ensure you have the most optimised results, test only one element at a time so you know which element performs the best.
Set A Straightforward Call To Action (CTA) 
Continuing with the theme of keeping it simple, and to the point. The call to action (CTA) on your affiliate landing page should be as direct, and as engaging as possible when asking your landing page visitor to take action. The CTA is a critical component of an affiliate landing page because it directs your audience to the next step.
You need your CTA to stand out amongst the other elements of your landing page and should be easily identifiable by using design elements such as colors, buttons, and white space to draw your audience's attention. When deciding what to include in your call to action, always make sure the language you are using is both personal and specific to encourage your audience to move on and take action. 
Add some social proof to your landing page
If you have ever downloaded an app, or chosen which restaurant to eat at, chances are you have referred to the reviews to help with your decision. The same goes for your landing page visitors, they will likely do the same for your offering. In fact, many people rely heavily on reviews, feedback, or other forms of endorsement, and are much more likely to believe a suggestion or recommendation. 
Incorporating review site widgets like TrustPilot is a great way to establish trust with your audience. It demonstrates to the potential client that other people have taken the next step, clicked the CTA, and are satisfied with the results. So be sure to include any form of feedback. You may be surprised to discover that even negative reviews promote trust as it shows transparency.
Closing comments
An affiliate landing page's main purpose is to attract potential clients to your offering, with them taking action at the end. The landing page essentially encourages your audience to take action, specifically to sign up to promote your products or services. So it is absolutely crucial that you target your audience effectively, setting aside time and effort for optimization efforts whenever possible.
By using the above optimization methods, you should be able to improve various elements of your landing page, but above all else, keep it simple, and get the point. The most successful landing is completely devoid of distraction, waffle and ambiguity. So try to always keep that in mind.
Join Eightcap Partners and gain unlimited access to exclusive creatives helping you to boost conversion rates.
Trading on margin is high risk.
In addition to the disclaimer on our website, the material on this page does not contain a record of our trading prices, or represent an offer or solicitation for a transaction in any financial instrument. Eightcap accepts no responsibility for any use that may be made of these comments and for any consequences that result. No representation or warranty is given as to the accuracy or completeness of this information. Consequently, any person acting on it does so entirely at their own risk. Any research provided does not have regard to the specific investment objectives, financial situation and needs of any specific person who may receive it. It has not been prepared in accordance with legal requirements designed to promote the independence of investment research and as such is considered to be a marketing communication.
Please note that past performance is not a guarantee or prediction of future performance. This communication must not be reproduced or further distributed without prior permission.